The dental esthetic aims to create and rebuild dental structures with extraoral cosmetics, that's the reason we offer lip augmentation.
The application of certain techniques allows getting the beauty and the harmony of a good smile: implant, grafts, gum plastic surgery, ceramics and whitening.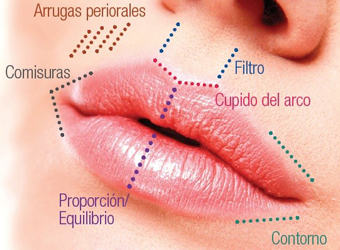 For us, lips are the perfect frame for the perfect teeth. With our lip augmentation treatment using hyaluronic acid we look for the combination of an extra oral and intraoral esthetics that offers integral solutions between beauty and health, getting a better smile expression.
It seems like the trend is moving away from voluminous lips, nowadays it tends to enhance existent features, and give them back the natural and smooth aspect they once had.
Hyaluronic acid is part of the dermis, the middle skin layer. Its main characteristic is to attract and to retain water, giving volume and hydration to the skin.
Over the years and with the natural aging process the concentration of this acid in the skin decreases. As a consequence, skin loses volume and wrinkles appear.
When applied to the lips, they get volume, gain firmness and redefine the outline.
We achieve, in The Dental Clinic in Almería Fernandez Ayora with dental and perioral esthetic treatments, our patients get the harmony and esthetic they want between the frame of the lips and teeth.