Teeth whitening is a dental esthetic treatment which reduces different shades, resulting on whiter and brighter teeth.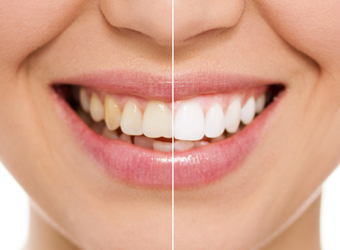 Our system allows us to achieve some shades in just one session without harming the tooth enamel. At the same time, needing less time for the treatment, causes less sensibility with quick results.
The process of esthetics dental treatment is simple and painless. Previously, it is necessary to perform a dental cleaning. After that, the specialist applies a whitening gel on each tooth which contains hydrogen peroxide, after that a LED light is used.
The teeth whitening also allows to remove any stain caused by medicine intake or other causes such as tea, coffee, cigarettes, wine, etcetera. Nevertheless, it does not have any effect on any kind of repairs like teeth fillings fixed with halogen light, dental inlays or dental crowns.
In order to replace the repair, it is necessary to wait for a few days as the new shade obtained stabilizes.
Here in Dental Clinic Fernandez Ayora, we want our patients in Almería to get a perfect smile with our dental esthetic treatments.