El blanqueamiento dental es un tratamiento de estética dental que logra reducir varios tonos dejando los dientes más blancos y brillantes.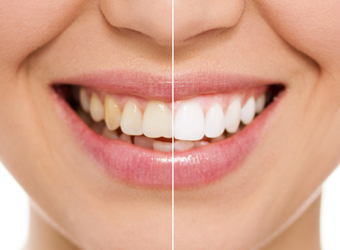 Nuestro sistema permite conseguir varios tonos en una única sesión, sin dañar el esmalte del diente. A su vez, al necesitar menos tiempo de tratamiento, produce menor sensibilidad y los resultados son inmediatos.
El procedimiento de tratamiento de estética dental es sencillo y sin dolor. Previamente es necesario la realización de una limpieza bucal. Seguidamente, el especialista coloca sobre cada diente un gel blanqueador que contiene peróxido de hidrógeno, para a continuación aplicar una luz LED sobre ellos.
El blanqueamiento dental también permite eliminar manchas producidas por medicamentos o por otras causas como el té, café, cigarrillo, vino tinto. Sin embargo, no tiene efecto sobre ningún tipo de restauraciones, siendo estas: restauraciones realizadas con luz halógena, incrustaciones y coronas o puentes.
Para poder realizar el recambio de estas restauraciones es necesario esperar unos días aproximadamente para que el color obtenido con el blanqueamiento se estabilice.
En Clínica dental Fernández Ayora queremos que nuestros pacientes en Almería consigan lucir una sonrisa perfecta con nuestros tratamientos de estética dental.
The dental esthetic aims to create and rebuild dental structures with extraoral cosmetics, that's the reason we offer lip augmentation.
The application of certain techniques allows getting the beauty and the harmony of a good smile: implant, grafts, gum plastic surgery, ceramics and whitening.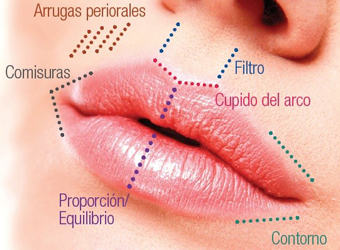 For us, lips are the perfect frame for the perfect teeth. With our lip augmentation treatment using hyaluronic acid we look for the combination of an extra oral and intraoral esthetics that offers integral solutions between beauty and health, getting a better smile expression.
It seems like the trend is moving away from voluminous lips, nowadays it tends to enhance existent features, and give them back the natural and smooth aspect they once had.
Hyaluronic acid is part of the dermis, the middle skin layer. Its main characteristic is to attract and to retain water, giving volume and hydration to the skin.
Over the years and with the natural aging process the concentration of this acid in the skin decreases. As a consequence, skin loses volume and wrinkles appear.
When applied to the lips, they get volume, gain firmness and redefine the outline.
We achieve, in The Dental Clinic in Almería Fernandez Ayora with dental and perioral esthetic treatments, our patients get the harmony and esthetic they want between the frame of the lips and teeth.
CARILLAS DE PORCELANA O COMPOSITE
This esthetic dental treatment tries to harmonize and give highlight to anterior teeth, it allows to correct different esthetics problems. The main objective besides esthetics is to accomplish teeth functionality and get a better prognosis for natural teeth.
This esthetic dental treatment consists in placing a thin ceramic sheet over the front area of the tooth, with a previous reduction of the thickness of the tooth enamel and providing a new shape that is harmonic and esthetic to the tooth.
Veneers are thin sheets of different resistant materials just like the composite, porcelain, disilicate that helps to achieve a better dental esthetic and a better oral functionality. It is about materials that emulate the natural color of the teeth and reach satisfactory results.
In The Dental Clinic Fernandez Ayora, by using these treatments, we offer our patients a pretty smile through a simple and satisfactory treatment.