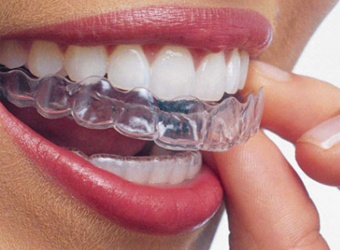 What is invisible orthodontics?
Invisible orthodontics or invisalign is an orthodontic system that consists of a series of transparent and removable aligners that have been customized for each patient, which are made of a completely aesthetic and comfortable material.
Invisible orthodontics consists of a series of aligners, custom-made for each patient from a virtual scan of the mouth which allows moving teeth to the desired position.
Which are the advantages of invisible orthodontics?
One of the biggest advantages that invisible orthodontics offers is its aesthetic appearance compared to the rest of orthodontic treatments, they are also much more comfortable, since changes in the teeth are made in a gentler manner.
One of the many advantages of this system is that it counts with a 3D virtual treatment plan, that allows patients to know what their teeth will look like once the treatment is done, even before starting it.
Invisible orthodontics endorsed by millions of cases, especially indicated for teenagers and adults.
Overall, we can say that invisible orthodontics:
Are not visible to the naked eye, they are transparent dental splints.
Its comfort, is one of the most important factors, since it does not cause problems such as redness or wounds.
Easy patient adaptation, in a short time they adapt to the changes made.
Custom-made for each patient.
What is the difference between invisible orthodontics and conventional orthodontics?
The main difference is aesthetics, with conventional orthodontics you can notice the metal braces, but in order to know which system is the most convenient for each patient, the ideal is to evaluate the patient's issues and see which options are offered by the professionals of the clinic.
We emphasize that this novel treatment of invisible orthodontics requires the patient to be constant, since it is essential that the aligners are used around 20 hours a day.
For further information about invisible orthodontics click here.
In Dental Clinic in Almería Fernández Ayora by offering treatment with invisible orthodontics or invisaling, we are providing a very novel and more comfortable dental aesthetic treatment for our patients in Almería, in order to improve their dental appearance and their long-term prognosis.